CLEANSE YOUR SYSTEM & RESET YOUR HEALTH
Boost your immune function, cleanse your system, decrease inflammation and pain, lose excess weight, and improve your energy and well-being.
Shop
Hear Kelsey's testimonial about the detox!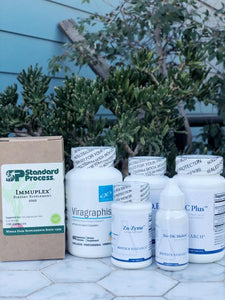 Our Immunity Packs are a robust way to fight off any signs of sickness or viruses you may be feeling. Our doctors put together a protocol that has worked for many patients and can work for you too!
Shop
Health in Balance is here to support you...
Many people suffer from pain and health challenges that the conventional medical model doesn't have a solution for. Through integrative medicine, we combine the best of many healthcare disciplines and natural practices to help people get to the root of the problem and find true, lasting restoration. In addition, we provide many patients with top supplemental care to promote health and healing for various needs. Now, we're making our shop available to you recommended by our natropathic doctors. You can learn more about our clinic at healthinbalance.com.