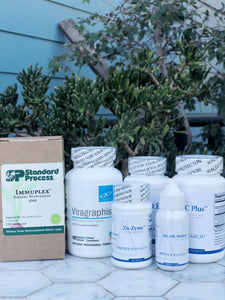 Health in Balance Shop
Adult Immunity Booster
Regular price
$197.00
$0.00
Unit price
per
Immunity Booster featuring:
Immuplex
Viragraphis
Bio-C Plus
A.D.P
Zin-Zyme
Bio-DK-Mulsion
Quercitin
Daily Protocol:
Breakfast : 
1 Vigraphis 
1 A.D.P.
1 Quercitin
2 Bio-C Plus
6 Bio DK- Mulsion
1 Immuplex
1 Zn-Zyme
More on these products:
Immuplex
Immuplex blends essential micronutrients and minerals, as well as Protomorphogen™ and Cytosol™, extracts to support the immune system.*

Taken daily, supports a healthy immune system response function

Helps maintain normal white blood cell activity already within a normal range

Supports the body's normal inflammatory response function as it relates to periodic challenges like consumption of a high-fat meal or strenuous activity

Provides ingredients with antioxidant activity

Excellent source of, Iron, Zinc, Copper, Chromium, Folate and vitamins A, B6, and B12 and antioxidant vitamins C and E

Good source of Selenium
Viragraphis
Viragraphis™ features three herbs that have been used traditionally for immune support and stimulation. Contemporary research on these herbs—andrographis, licorice root, and indigowoad—confirms the wisdom of their historical use. XYMOGEN's Viragraphis formula may be especially helpful in supporting cytokine balance and respiratory function
.*Supports Healthy Immune and Respiratory Function*

Supports Healthy Cytokine and Eicosanoid Balance*

Designed as a Fast-Acting, Short-Term Formula*
Bio-C-Plus 1000

Bio-C Plus 1000™ supplies Vitamin C (as calcium and magnesium ascorbates), along with calcium and magnesium as mineral ascorbates, in addition to citrus bioflavonoids (citrus fruit), Superoxide Dismutase (from vegetable culture), and Catalase (from vegetable culture). At higher dosages, mixed ascorbates are less likely to cause digestive distress as compared to ascorbic acid. Use wherever the need for vitamin C is determined.
ADP
A.D.P.® is a proven effective, patented formula. Utilizing micro-emulsification and delayed-release technologies, A.D.P.® delivers standardized oil of oregano throughout the digestive tract, where it functions to impact undesirable intestinal organisms.
Zn-Zyme
Zn-Zyme™ supplies 15 mg of elemental zinc per tablet. Zinc is a mineral essential to both normal health and to optimal cellular function. As a cofactor for an excess of seventy enzymes, zinc plays an important role in many cellular processes. Zinc is also a component of specific DNA binding proteins, known as zinc finger proteins, commonly referred to as zinc fingers. Zinc fingers are vital for nutrient/gene interactions. Consider Zn-Zyme Forte™ when a higher level of zinc supplemental is indicated.
Bio-DK-Mulsion
Bio-DK-Mulsion™ supplies 125 mcg (5,000 IU) of vitamin D3 and 300 mcg of vitamin K (as K1 phytonadione and K2 menaquinone-7) in a micro-emulsion for enhanced absorption and utilization, which is particularly important for those with malabsorption conditions. Clinical data shows that the emulsified form increases bioavailability over 200% compared to the non-emulsified form. In addition, Bio-DK-Mulsion™ is absorbed first through the lymphatic system, the body's preferred route of administration, and then transported to the blood circulation.
Quercetin
Quercetin's best-known mechanism of action involves its ability to stabilize mast cell membranes, which in turns can decrease the release of histamine.* In this way it provides nutritional support for individuals who occasionally suffer from allergies.* Other benefits include its cardiovascular support and protection of the gastrointestinal tract.* A number of quercetin's beneficial effects appear to be due to its antioxidant activity.* Quercetin can scavenge free radicals and inhibit the oxidation of LDL cholesterol.* By itself, and when paired with vitamin C, quercetin can reduce the incidence of oxidative damage to skin and nerves caused by glutathione depletion.* This exclusive Thorne formula features quercetin bound to sunflower-sourced phospholipids to enhance its absorption.*
Widely found in the plant kingdom, quercetin is the most abundant of the flavonoid molecules. It is found in numerous foods, including apples, onions, teas, berries, vegetables of the cabbage family, seeds, and nuts.
The crucial advantage attributable to Thorne's Quercetin Phytosome is its advanced phytosome technology. Phytosome complexes are created by a patented process that binds a botanical extract to phospholipids – phospholipids are key components of cell membranes. In the case of Quercetin Phytosome, the quercetin is combined with sunflower-sourced phospholipids to create a phytosome complex that can easily cross the gut barrier.*
---